FREE! Stop That Clot: Haemostasis and anticoagulants
2 hours
Platelet Activation
Platelets (thrombocytes) are cell fragments containing vesicles full of chemical mediators. When platelets come in to contact with collagen or von Willebrand factor in the subendothelium, they bind to fibres and become activated (Figure 2). Platelets change shape from smooth discs to spiny spheres and release chemicals from their vesicles. Key substances released include thromboxane, serotonin and adenosine diphosphate (ADP). These enhance smooth muscle contraction and activate neighbouring platelets making them adhere to each other and form a loose plug. Once activated, platelets also display receptors for thrombin, fibrinogen and other clotting factors on their surface that trigger and direct coagulation.
Figure Two. Platelet Activation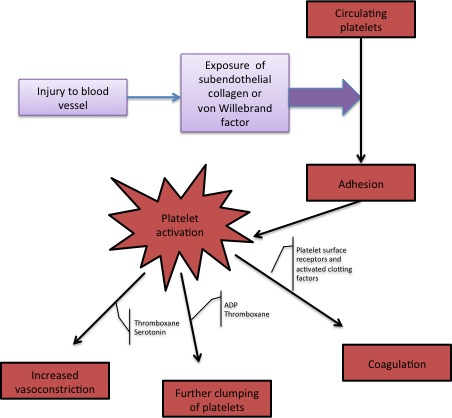 Coagulation
The clotting cascade is traditionally considered as a sequential activation of clotting factors, each step generating increasing amounts of the next factor, resulting in large quantities of thrombin that converts fibrinogen to fibrin (McCance & Huether, 2014). Activation is by intrinsic or extrinsic mechanisms. These separate pathways are assessed by Prothrombin Time (extrinsic) or activated Partial Thromboplastin Time (intrinsic pathway). This model cannot explain why absence of some clotting factors, e.g. factor XII, does not cause bleeding, while others (e.g. factors VIII and IX in haemophilia) causes severe bleeding. The coagulation pathway is better considered as a series of steps - initiation, amplification and propagation (Figure 3)(Hoffman & Monroe, 2007).
Figure Three. Coagulation